We are currently working on a new web store site. This means we are not updating this site with new products at this time. If you are interested in a product that doesn't show as available please email or call us.
Ultimate Direction FKT Vest
00325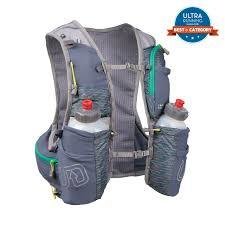 A super light weight vest with storage enough to carry whatever you need, wherever you go.
Suitable for racing long distances, ultra training, ultra light overnight
Volume 11.6 L
Sizing: (Measure at the base of ribs) SM: 24 - 33 in./61 - 86 cmMD: 30 - 40 in./76 - 102 cmLG: 38 - 48 in./97 - 122 cm
Hydration type: 2x 600 ml FlexForm bottles (also accommodates up to 2L bladder, not included)
Weight - 320 g (452 g w/ bottles)
Price - $175
Pros:
Pocketing is plentiful and accessible
This model is great for runners going off trail as it provides a more durable fabrics.
Loads can be cinched down with extra bungee cord clips to hold partial loads well against the body
Keep in Mind:
This pack is made of mostly open mesh, anticipate the load you carry to get wet
Sizing is different from previous versions of this vest, see sizing chart above or ultimatedirection.com for proper fitting
Size
Obsidian - Small (0) Obsidian - Medium (0) Obsidian - Large (0)